Designing and Developing Psychological Screening Assessments (2-day Workshop in Davao City)
Jan. 13, 2023
to
Jan. 14, 2023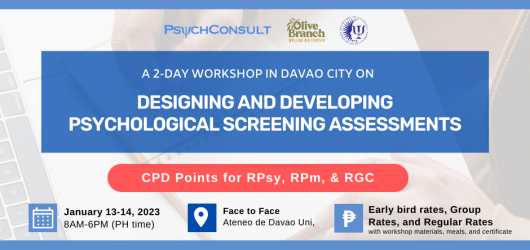 Join us in this 2-day hands on workshop with Dr. Boboy Alianan on Designing and Developing Psychological Screening Assessments.  In this workshop, participants will be guided through the 6-step rational approach in psychological screening.  These steps include considering and defining the following: 1) the purpose of assessment and its stakeholders, 2) relevant psychological constructs and dimensions to be measured, 3) pertinent assessment methods, 4) available psychological tests and measures, 5) methods of communicating assessment results, and 6) an evaluation plan.
Trauma-Informed Cognitive Behavioral Therapy: Introductory Seminar - February 2023
Feb. 10, 2023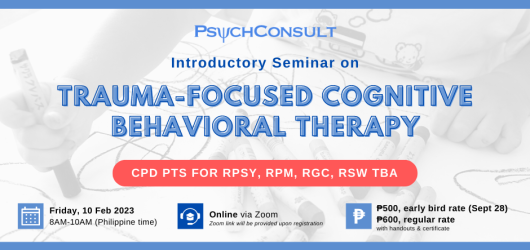 Trauma-Focused Cognitive Behavioral Therapy (TF-CBT) is an evidence-based treatment model and systematic approach to dealing with children's and adolescents' psychological trauma.  This 2-hour interactive lecture is ideal for mental health professionals interested in developing their skills in handling children and adolescents presenting with trauma. 
Trauma-Focused Cognitive Behavioral Therapy - Basic Training - April & May 2023
Apr. 21, 2023
to
May. 12, 2023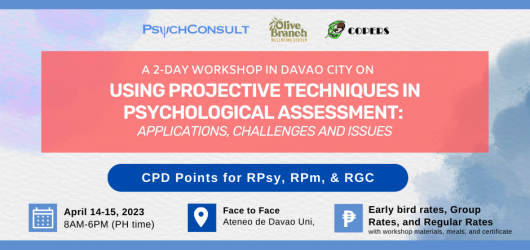 Be among the first Philippines to be a certified practitioner of Trauma-Focused Cognitive Behavioral Therapy!  Hurry!  Limited slots available!