PsychConsult, Inc. is offering a CPD-accredited online course, Measuring the Big 5: Maximizing the Use of the 16PF with Arsenio Sze Alianan, Jr., PhD!  See the details below!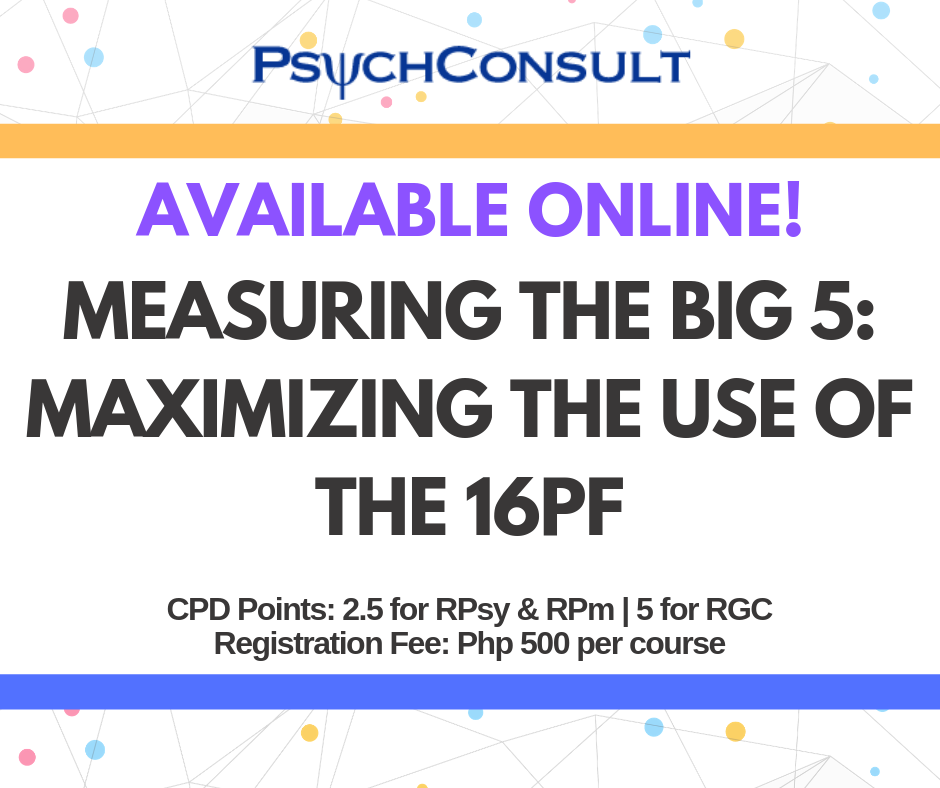 Title:  Measuring the Big 5: Maximizing the Use of the 16PF
Resource Speaker:  Arsenio Sze Alianan, Jr., PhD
Event Delivery:  Online Course via Kuro.Pro
Dates:  January 31, 2019 to January 31, 2020
Target Participants:  Registered Psychologists, Registered Psychometricians, and Registered Guidance Counselors
Continuing Professional Development (CPD) Points:  For RPsy & RPm - 2.5 (PSYCH-2017-022-245) | For RGC - 5 (PSYCH-2017-022-276)
This is an advanced course for psychologists, psychometricians, guidance counselors (beyond what may be learned in school), newly-licensed and seasoned alike, who are involved in doing psychological assessments in different settings. The course focuses on Cattel's 16 Personality Factors scale and furthers the knowledge of psychometricians and psychologists in the use of this scale. It explains the assertions of the trait theory of personality, and briefly outlines the long history of the development and use of the said personality test. It aims to explain each of the traits and the way they cluster to form the global factors. The discussion then proceeds to an interpretation strategy. Sample protocols will be used to illustrate this.
 
You may enroll in the course at https://www.kuro.pro/course?courseid=measuring-the-big-5 for just Php 500.
For more information, you may email psychconsult [dot] info [at] gmail [dot] com or contact us at 421-2469 or 0936-7967177 and look for Ms. Kim Lim.