Psychconsult, Inc., Olive Branch Wellbeing Center, and the
Center of Psychological Extension and Research Services
invite you to a 2- day workshop in Davao City!​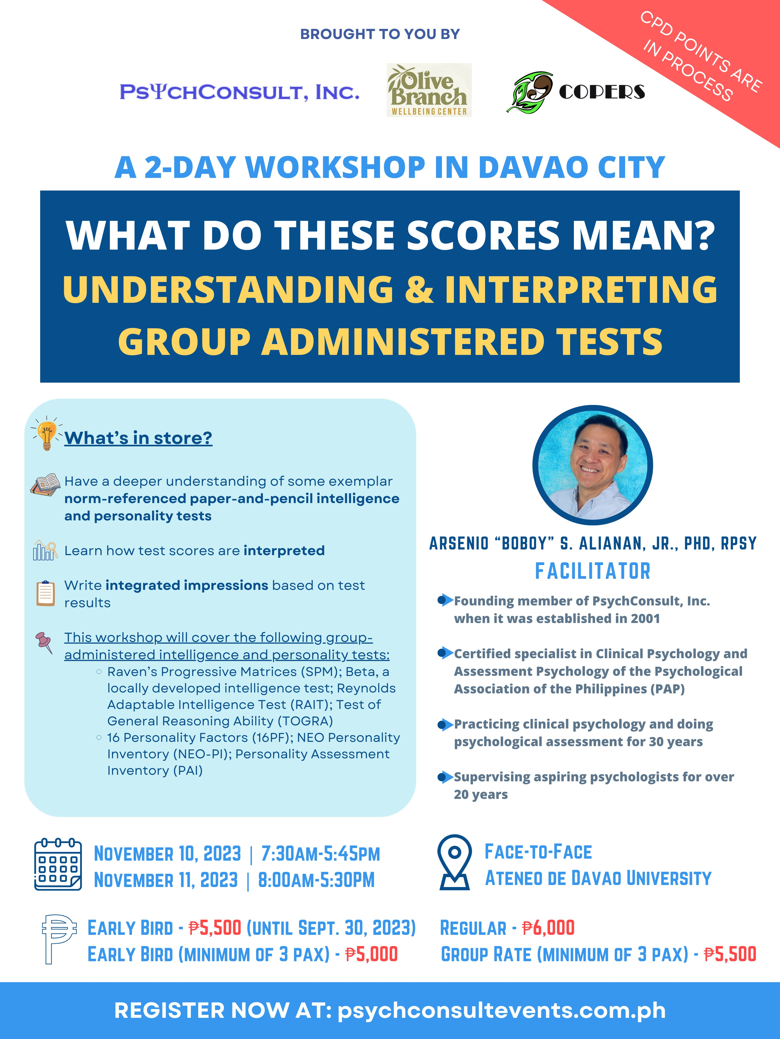 This 2-day workshop will enable participants to have a deeper understanding of some exemplar norm-referenced paper-and-pencil intelligence and personality tests, learn how test scores are interpreted, and write integrated impressions based on test results. 
Among the group-administered intelligence test covered will include the following:  nonverbal intelligence tests like the Raven's Progressive Matrices (SPM) and the Beta, a locally developed intelligence test (Filipino Intelligence Test), and a full scale group administered intelligence test like the Reynolds Adaptable Intelligence Test (RAIT) and the Test of General Reasoning Ability (TOGRA).  It will also cover the 16 Personality Factors (16PF), the NEO Personality Inventory (NEO-PI), and the Personality Assessment Inventory (PAI). 
After understanding what each of the above scales measure, the participants are engaged in discussions on interpreting a test protocol.  They are then led to follow basic principles in writing reports regarding impressions derived from these test results.    
At the end of this workshop, the participants would be able to:  
1. Explain what each test included in the course measures; 
2. Interpret scores on the tests included; and 
3. Write their impressions based on their interpretation of the said test scores.  
NOTE: Participants to this workshop are expected to have taken the different tests covered in this workshop.
If they have not taken one or more of the tests covered in this workshop and would like to do so, they may contact the
organizers so that these tests can be administered to them (this will entail cost NOT covered by the workshop fee).
These tests include the following:    
1. Raven's SPM 
2. TOGRA 
3. 16PF 
4. NEO-PI
5. PAI
Title:  WHAT DO THESE SCORES MEAN? UNDERSTANDING AND INTERPRETING
           GROUP ADMINISTERED TESTS
Speaker:  Dr. Arsenio "Boboy" Sze Alianan, Jr., PhD, RPsy
Venue:  Ateneo de Davao University (in person attendance is expected)
Date:  November 10, 2023 | Friday | 7:30am to 5:45pm
           November 11, 2023 | Saturday | 8:00am to 5:30pm
Target Participants:  Psychometricians, Psychologists, and Guidance Counselors who
would like to strengthen their skills in using norm-referenced paper-and-pencil intelligence
and personality tests in psychological assessment
Registration Fee (includes workshop materials, meals, and certificate):
Regular Rate: ₱6,000
**Regular Group Rate: ₱5,500 (min. 3 pax)
Early Bird: ₱5,500 (until September 30)
**Early Bird Group Rate: ₱5,000 (min. 3 pax)
** To avail of group rates, please email us at trainings [at] psychconsult [dot] com [dot] ph
Slots are secured only upon confirmation of payment. Payments are non-refundable and secured slots are non-transferable.
CPD Points:
Psychologists & Psychometricians - TBA
Guidance Counselors- TBA
-
SLOTS ARE LIMITED TO ONLY 25 PARTICIPANTS.  REGISTER NOW!
For concerns, please email us at trainings [at] psychconsult [dot] com [dot] ph
-
Difficulty registering? Check out our guide here.