PsychConsult, Inc. invites you to the webinar The Interview & Behavioral Observations, the second webinar in the PSAS 2020 Webinar Series!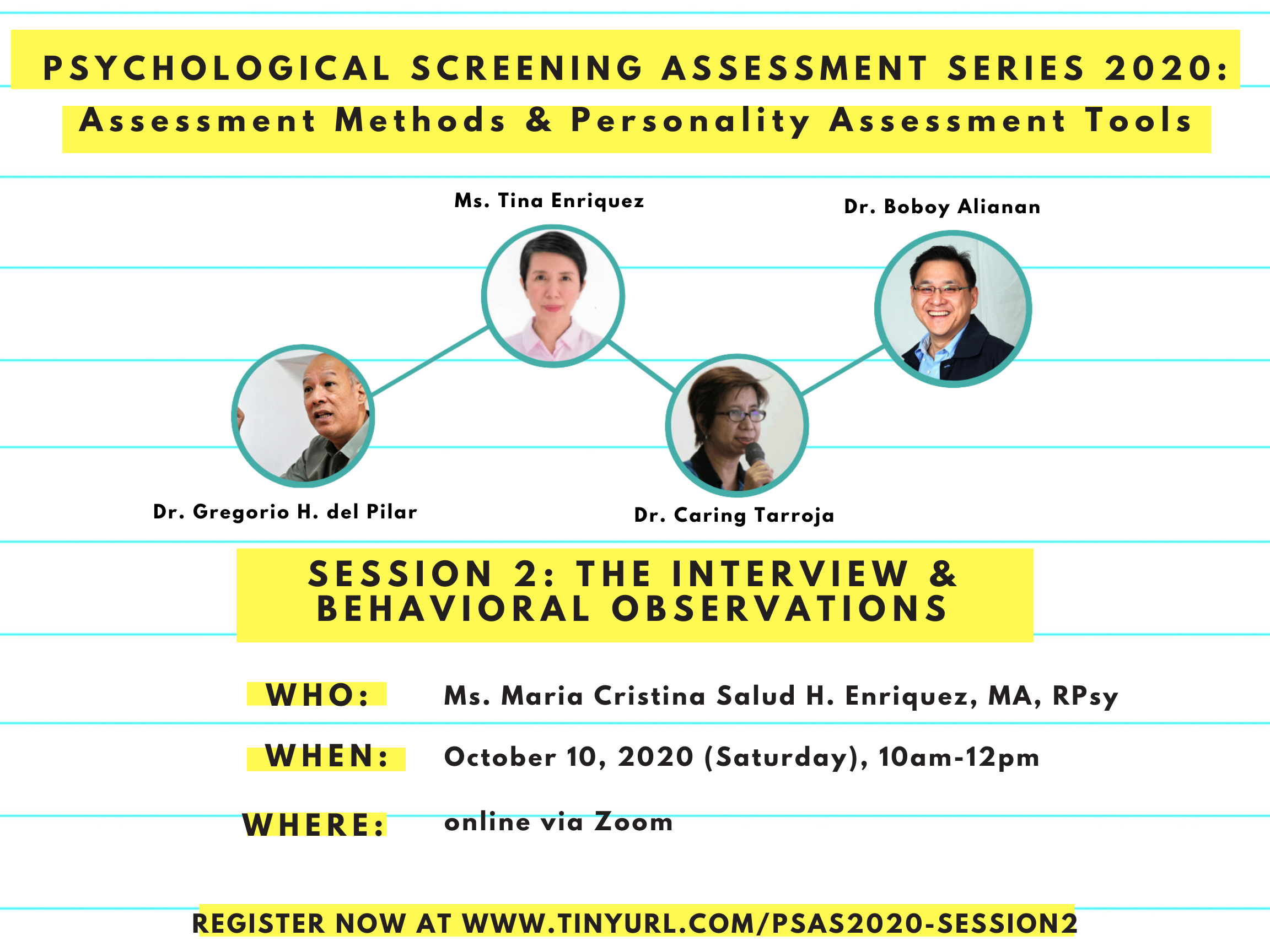 The interview is the main means of rapport-building with the client in the screening process.  It is also a very useful method from which assessment data can be obtained.  The lecture focuses on types of interviews, skills in interviewing, and characteristics of effective questions.  Two semi-structured interview schedules, namely, for a parent of a child referral and for an applicant for a managerial position, that is aligned with the previously defined dimensions of measurement are shared as exemplars.  
A workshop to enhance crafting questions aligned to the dimensions of measurement in a given psychological screening assessment is done.  To enhance participants' learning, an interactive evaluation of formulated questions follows.    
Observations form another data source in the psychological screening process, which can enrich and further inform assessment results.  This session guides participants through identifying and looking out for relevant behaviors to observe within the context of the purpose of the psychological screening.  In addition, strategies on how to include these behavioral observations in a screening report are discussed.  Participants are then guided step-by-step in an exercise to fill out the behavioral observations in a screening report.  
A workshop on observing a partner sharing a story and taking down notes is followed with interactive processing of the experience.  
Title:  PSAS 2020 - Session 2: The Interview & Behavioral Observations
Resource Speaker:  Ms. Maria Cristina Salud H. Enriquez, MA, RPsy
Event Delivery:  Webinar via Zoom 
Date:  October 10, 2020 (Saturday), 10am-12pm
Target Participants:  Registered Psychologists, Registered Psychometricians, Registered Guidance Counselors.
Continuing Professional Development (CPD) Points:  TBA CPD Points for RPsy, RPm, and RGC
Rates:  Early Bird - Php 2,500 for all five sessions in this series until September 6, 2020 (Register here)
             Regular - Php 600 for individual session
             PAP Member - Php 550 for individual session
                 *This fee is inclusive of the seminar and certificate. Slots are secure upon payment.
                  Payments are nonrefundable and secured slots are non-transferable.  
At the end of this 2-hour webinar-workshop, the participants would be able to:
1. Identify the nature and types of interviews
2. Identify good practices in interviewing
3. Craft interview questions and link these to dimensions being measured in a psychological screening
4. Identify relevant behaviors to observe during a psychological screening
5. Link behaviors to dimensions being measured in a psychological screening
REGISTER HERE:
For more information, you may email psychconsult [dot] info [at] gmail [dot] com or contact us at (02) 8421-2469 or 0936-796 7177.
--
downloadable links