Psychconsult, Inc., Olive Branch Wellness Center, and the Center of Psychological Extension and Research Services invite you to...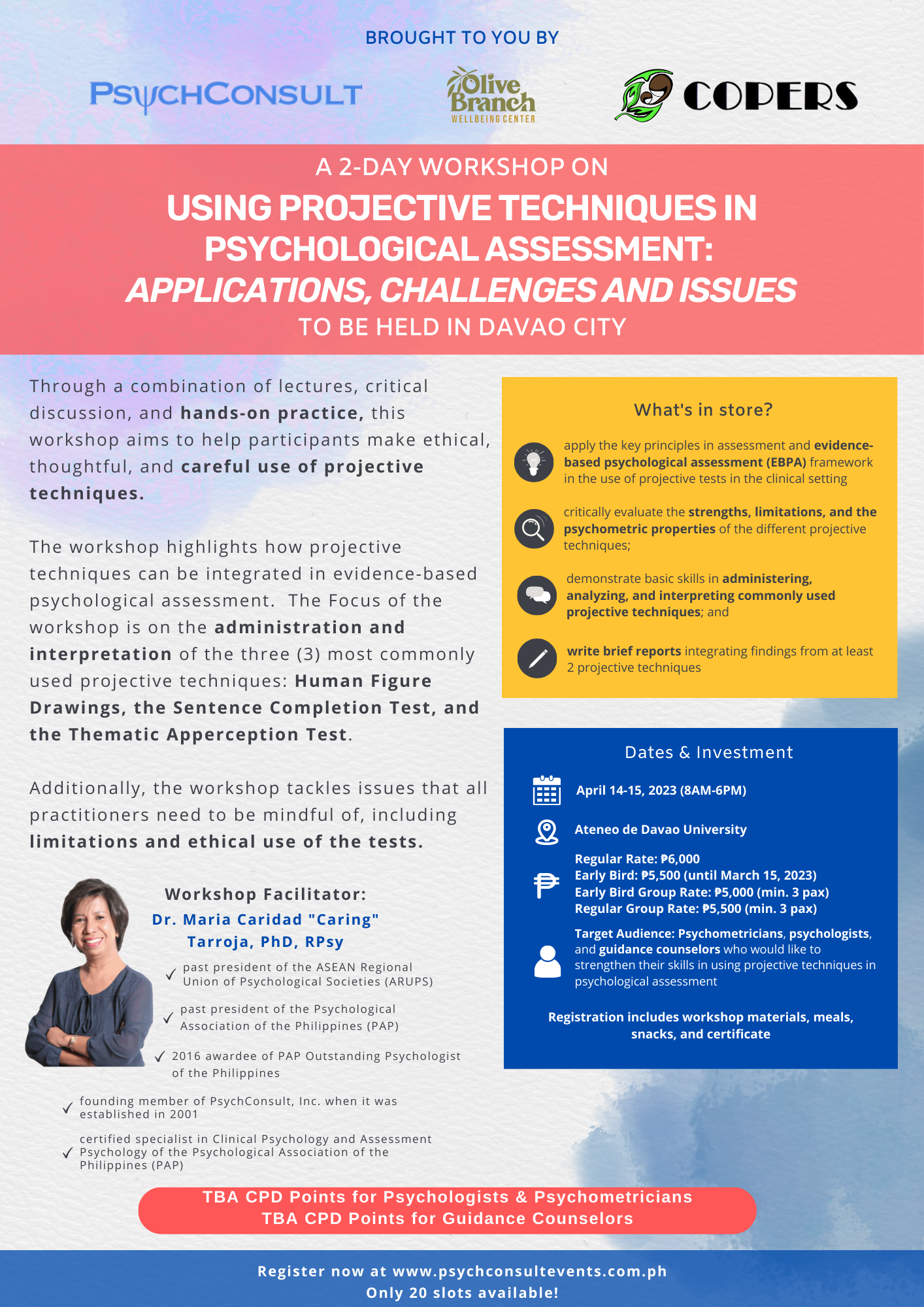 Through a combination of lectures, critical discussion, and hands-on practice, this 2-day workshop
aims to help participants make ethical, thoughtful and careful use of projective techniques.  The
workshop highlights how projective techniques can be integrated in evidence-based
psychological assessment.
The focus of the workshop is on administration and interpretation of the 3
most commonly used projective techniques: Human Figure drawings, the Sentence Completion
Test, and the Thematic Apperception Test.  Additionally, the workshop tackles issues that all
practitioners need to be mindful of, including limitations and ethical use of the tests.  Participants
in the workshop also get to know about the latest research findings on the utilization of these
techniques in practice.
At the end of the 2-day workshop, participants are able to:
1. Apply the key principles in assessment and evidence-based psychological assessment
(EBPA) framework in the use of projective tests in the clinical setting;
2. Critically evaluate the strengths, limitations, and psychometric properties of the
different projective techniques;
3. Demonstrate basic skills in administering, analyzing, and interpreting commonly used
projective techniques; and
4. Write brief reports integrating findings from at least 2 projective techniques.
Title:  Using Projective Techniques in Psychological Assessment:
Applications, Challenges and Issues
Speaker:  Dr. Maria Caridad "Caring" C. Tarroja, PhD, RPsy
Venue:  Ateneo de Davao University (in person attendance is expected)
Date:  April 14-15, 2023 | Friday & Saturday | 8:00am to 6:00pm, Philippine Time
Target Participants:  Psychometricians, Psychologists, and Guidance Counselors who
would like to strengthen their skills in using projective techniques in psychological assessment
Registration Fee:
Regular Rate: ₱6,000
**Regular Group Rate: ₱5,500 (min. 3 pax)
Early Bird: ₱5,500 (until March 15)
**Early Bird Group Rate: ₱5,000 (min. 3 pax)
** To avail of group rates, please email us at psychconsult [dot] info [at] gmail [dot] com
 
CPD Points:
Psychologists & Psychometricians - TBA
Guidance Counselors- TBA
 ** Slots are secured only upon confirmation of payment. Payments are non-refundable and secured slots are non-transferable.  
-
SLOTS ARE LIMITED TO ONLY 20 PARTICIPANTS.  REGISTER NOW!
For concerns, please email us at psychconsult [dot] info [at] gmail [dot] com or message 0917 637 8155.
-
Difficulty registering? Check out our guide here.