Psychconsult, Inc. invites you to...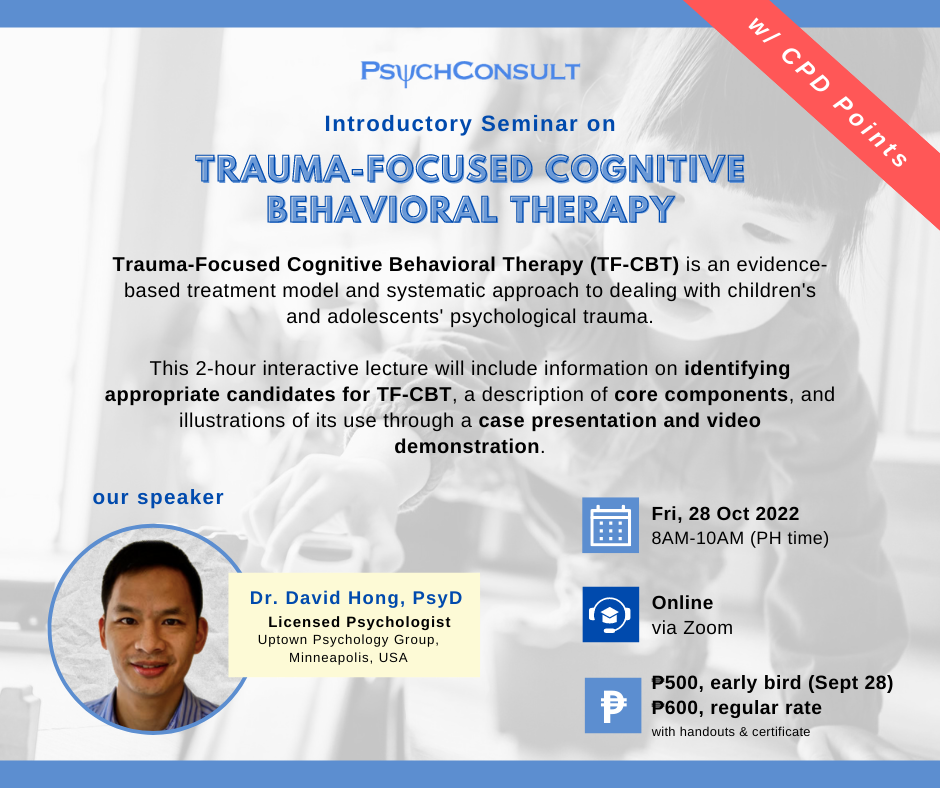 We are inviting all students, psychologists, psychometricians, guidance counselors,
and social workers to our introductory seminar on Trauma-Focused Cognitive Behavioral Therapy!
Trauma-Focused Cognitive Behavioral Therapy is an evidence-based treatment model and
systematic approach to dealing with children's and adolescents' psychological trauma.
Join us as we learn from our speaker, Dr. David Hong, PsyD. 
This 2-hour interactive lecture will include information on identifying appropriate candidates for TF-CBT,
a description of core components, and illustrations of its use through a case presentation and video demonstration.
Dr. Hong is a US Certified trainer and consultant in TF-CBT.  He has provided training and consultation
internationally to over 1,000 clinicians and an array of psychological services in the clinical setting for over 10 years.
He has presented at conferences in Japan, China, and Bolivia, among others. 
Dr. Hong is a licensed Psychologist with a doctorate in Clinical Psychology.
He is currently practicing in Uptown Psychology Group in Minneapolis, USA.
-
Title:  Trauma-Focused Cognitive Behavioral Therapy - Introductory Seminar
Speaker:  Dr. David Hong, PsyD
Venue:  online via Zoom (link will be sent upon confirmation of registration)
Date:  October 28, 2022 | Friday | 8:00am to 10:00am, Philippine Time
Target Participants:  open to all interested
Psychologists, Psychometricians, Guidance Counselors, Social Workers, Teachers, and Mental Health Advocates
Registration Fee:
Early Bird Rate - ₱ 500 (until Sept. 28)
PAP Member Rate - ₱ 500
Regular Rate - ₱ 600
CPD Points:
Psychologists & Psychometricians - 1 CPD pt
Guidance Counselors- 2 CPD pts
Social Workers - TBA
 ** Slots are secure upon payment. Payments are non-refundable and secured slots are non-transferable.  
Materials: 
Download Letter of Invitation: Letter of Invitation
Download Overview of Webinar: Overview of Webinar
-
For concerns, please email us at psychconsult [dot] info [at] gmail [dot] com or message 0917 637 8155.
-
Difficulty registering? Check out our guide here.