PsychConsult, Inc. invites you to the webinar Using NEO Personality Inventory (NEO-PI), the third webinar in the PSAS 2020 Webinar Series!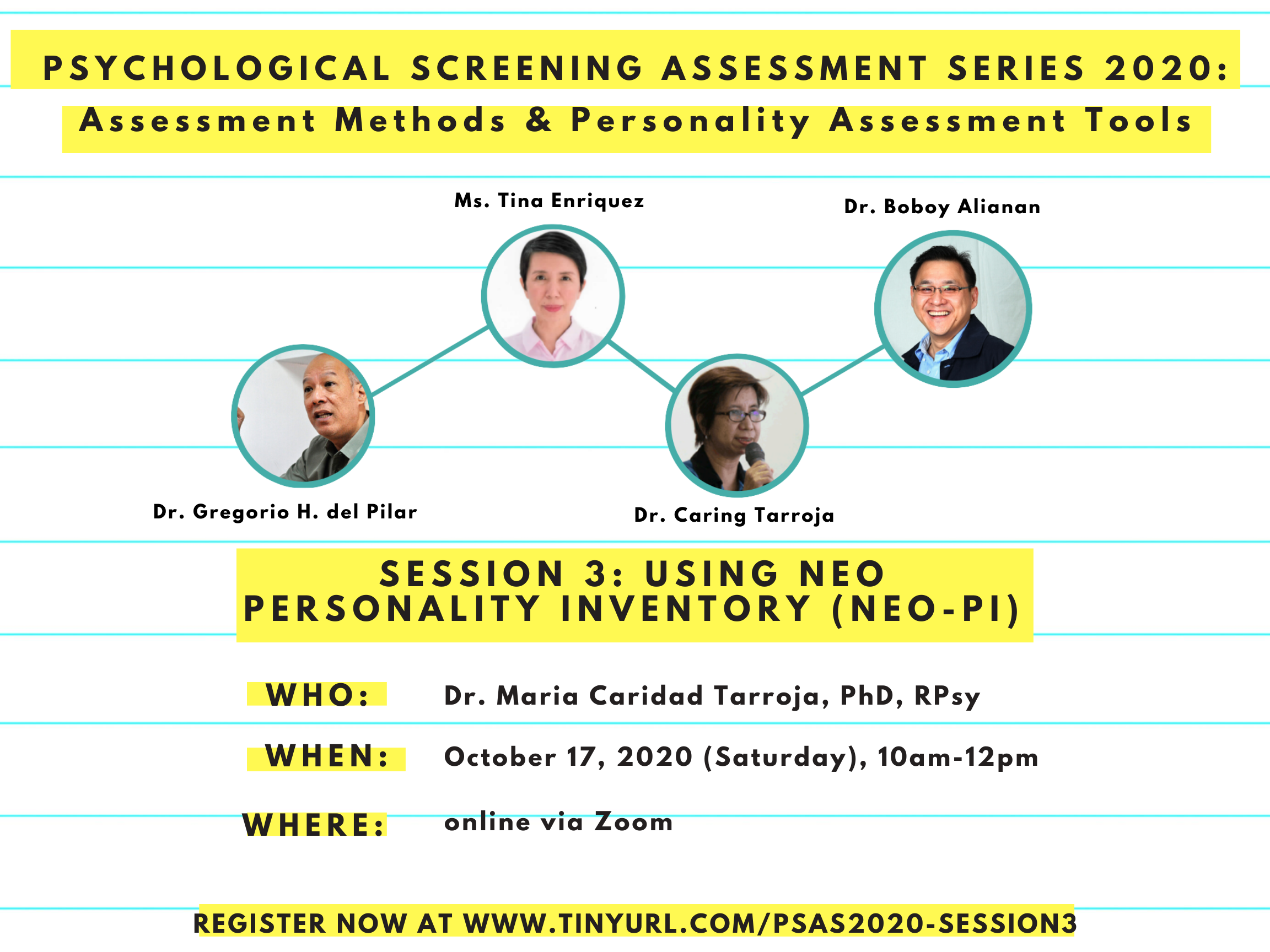 The NEO Personality Inventory-3 (NEO-PI-3) is the standard questionnaire of the Five Factor Model of Personality.  It is a concise measure of the five major domains of personality (Neuroticism, Extraversion, Openness, Agreeableness, and Conscientiousness) and the six facets that define each domain.  Developed by Costa and McRae, NEO-PI is a comprehensive assessment of adolescent and adult personality.  
This seminar introduces participants to how NEO-PI is used in clinical, educational, and industrial settings.  The first part provides an overview of the test, its background, underlying theory and principles, and psychometric properties.  The second part covers the administration, analysis and interpretation of the test.  The last part of the workshop provides participants actual exposure on the interpretation of NEO PI and how this tool complements other psychological tools.  
Title:  PSAS 2020 - Session 3:  Using NEO Personality Inventory (NEO-PI)
Resource Speaker:  Dr. Maria Caridad H. Tarroja, PhD, RPsy
Event Delivery:  Webinar via Zoom 
Date:  October 17, Saturday, 10am to 12pm
Target Participants:  Registered Psychologists, Registered Psychometricians, Registered Guidance Counselors.
Continuing Professional Development (CPD) Points:  TBA CPD Points for RPsy, RPm, and RGC
Rates:  Early Bird - Php 2,500 for all five sessions in this series until September 6, 2020 (Register here)
             Regular - Php 600 for individual session
             PAP Member - Php 550 for individual session
                 *This fee is inclusive of the seminar and certificate. Slots are secure upon payment.
                  Payments are nonrefundable and secured slots are non-transferable. 
At the end of this 2-hour webinar-workshop, the participants would be able to:
1.    Describe the rationale, underlying principles, and purpose and use of the NEO-PI;
2.    Explain the structure of the scales of the Neo-PI;   
3.    Practice interpreting at least two (2) NEO-PI test protocols; and 
4.    Write at least a few lines of the psychological report using NEO results. 
ONLINE REGISTRATION IS NOW CLOSED! 
However, you can manually register by contacting us at email psychconsult [dot] info [at] gmail [dot] com or
call/text 0917-637-8155.  Manual registration is open until October 17, 2020 (8:00AM). 
For more information, you may email psychconsult [dot] info [at] gmail [dot] com or contact us at (02) 8421-2469 or 0936-796 7177.
​--
downloadable links