PsychConsult, Inc. is offering a CPD-accredited online course, Writing Psychological Screening Reports with Arsenio Sze Alianan, Jr., PhD!  See the details below!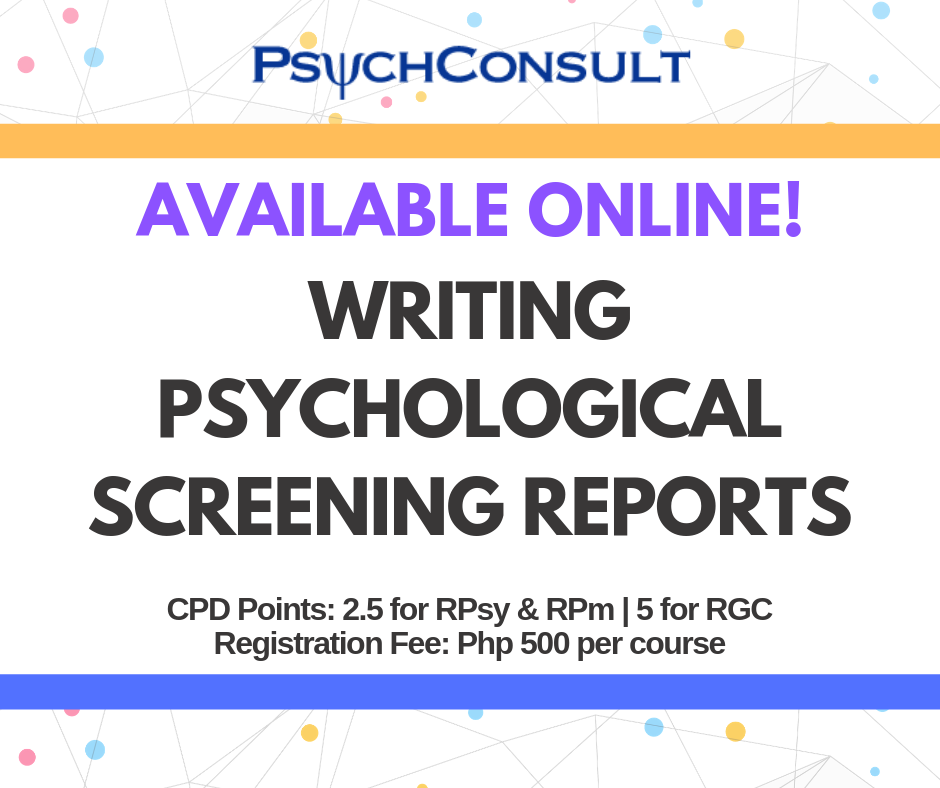 Title:  Writing Psychological Screening Reports
Resource Speaker:  Arsenio Sze Alianan, Jr., PhD
Event Delivery: Online Course via Kuro.Pro
Dates:  March 7, 2019 to March 6, 2020
Target Participants:  Registered Psychologists, Registered Psychometricians, & Registered Guidance Counselors
Continuing Professional Development (CPD) Points: For RPsy & RPm - 2.5 (PSYCH-2017-022-345) | For RGC - 5 (PSYCH-2017-022-287)
This is an advanced course for psychologists, psychometricians, guidance counselors (beyond what may be learned in school), newly-licensed and seasoned alike, who are involved in doing psychological assessments in different settings. The course focuses on answering the following questions: How can psychological assessment results be best communicated to concerned stakeholders? What are the characteristics of a good psychological screening report? What good practices guide a professional in writing such reports? How does a professional decide what to include and what to omit in a psychological screening report? The course shall delve into writing typical psychological screening reports and give specific examples of well-written psychological screening reports.
You may enroll in the course at https://www.kuro.pro/course?courseid=writing-psychological-screening-reports for just Php 500.
For more information, you may email psychconsult [dot] info [at] gmail [dot] com or contact us at 421-2469 or 0936-7967177 and look for Ms. Kim Lim