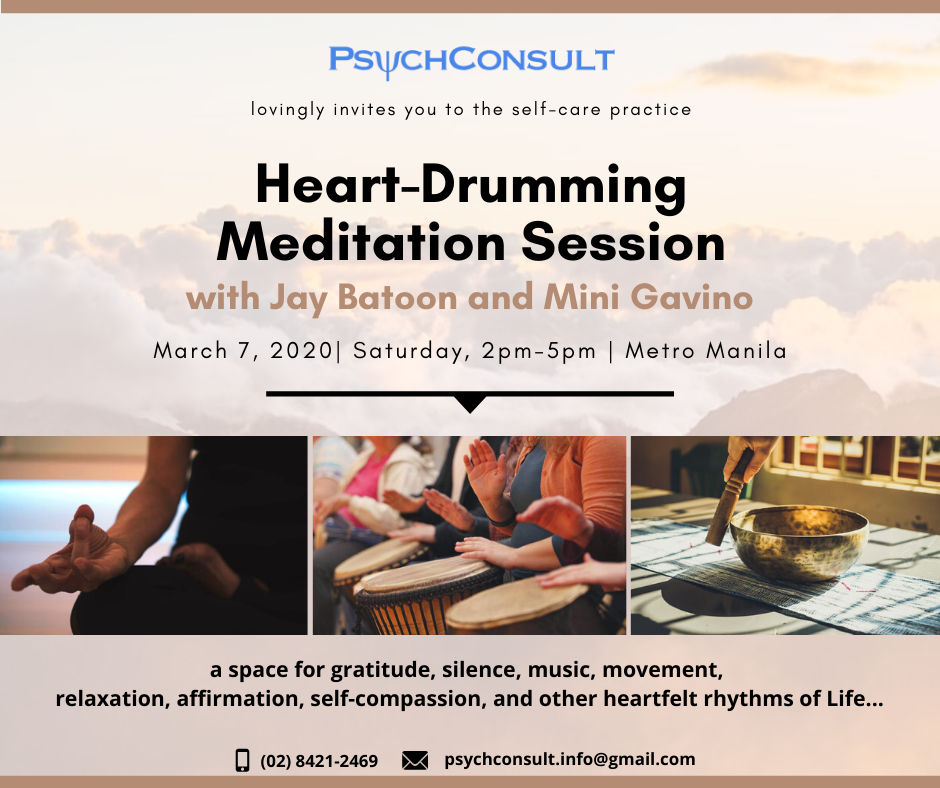 Psychconsult, Inc. lovingly invites you to a Heart-Drumming Meditation Session with Jay Batoon and Mini Gavino!
The Heart-Drumming meditation is ideal for those who wish to practice compassion to the self and others, and non-judgmental attitude to one's everyday encounters with life.  The meditation session provides a safe space to begin your journey towards well-being through self-care.  The Heart-Drumming meditation is a space for gratitude, silence, sounds/music, movement/dance, relaxation, affirmation, and other heartfelt rhythms of Life.
The Heart-Drumming begins with a breath-centered meditation.  Through proper posture and breathing, you will be taught how to help anchor yourself to the present moment, allowing you to become aware of your inner and outer dynamics without judgment, but rather, with warm and complete acceptance.  
Title:  Heart-Drumming Meditation Session
Facilitators:  Jay Batoon and Mini Gavino
Venue:  Movement Dance Studio, Unit 2008, 20th floor, 1908 AIC Burgundy Empire Tower, ADB Ave., Ortigas Center,
             Pasig City, Metro Manila - across Robinsons Galleria
Date:  March 7, 2020 | Saturday, 2pm to 5pm
Target Participants:  open to all | beginners and first timers are welcome
Registration Fee:  
Early Bird - ₱ 1,000 (until February 14, 2020)
Regular Rate - ₱ 1,200
PAP Member Rate - ₱ 1,000


** Slots are secure upon payment. 

Payments are nonrefundable and secured slots are non-  transferable. 
Note:  a limited number of drums are provided, thus participants are encouraged to bring their own drums or percussion instruments.  You may also bring yoga mats or native mats to lay/sit on during the meditation.
Register Here!
(Having trouble registering? Check the online guide at: www.tinyurl.com/PSAS-HowTo)
For more information, contact us at (02) 8421-2469 or email us as psychconsult [dot] info [at] gmail [dot] com.