PsychConsult, Inc. invites you to the webinar Informal Assessment Tools and Norm-Referenced Tests, the first webinar in the PSAS 2020 Webinar Series!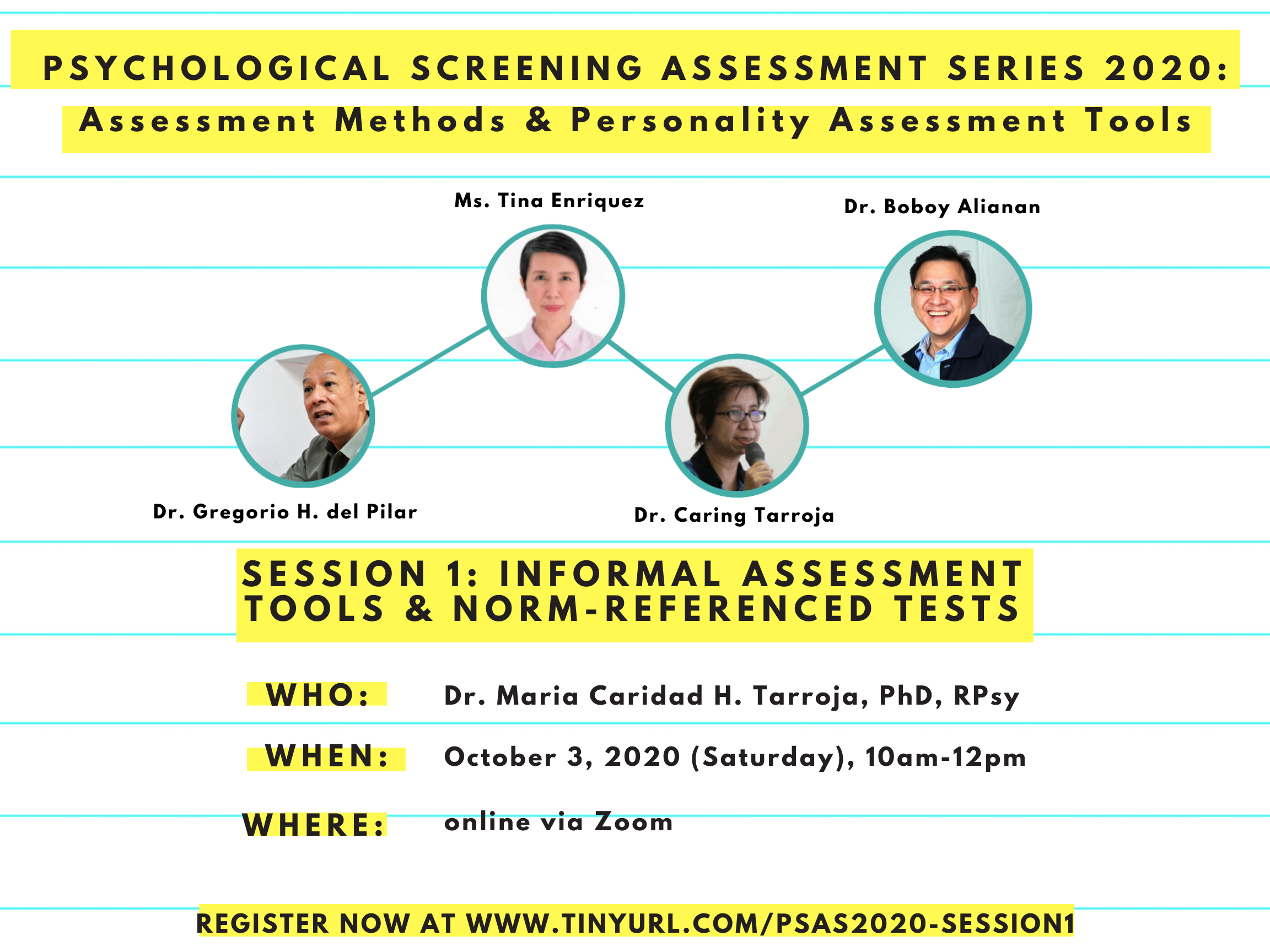 Informal assessment tools may be either standardized or non-standardized methods and are not norm-referenced (Framingham, 2016).  These tools provide qualitative information about an individual (Leppma & Jones, 2013).  This seminar begins with a discussion on the nature and characteristics of informal assessment tools and the identification of several exemplars.  While these tools may not possess the same psychometric properties of standardized norm-referenced measures, they are a valuable part of data gathering in psychological assessment.  The session proceeds with a critical discussion that highlights the uses and value of including informal assessment tools in an assessment battery.
Norm-referenced tests are standardized psychological tests that are designed to measure a particular aspect of a person's knowledge, aptitude, skills, attitudes, behaviors, state, and traits, in comparison with a defined group (Framingham, 2016).  This session aims to enhance the knowledge of participants in the selection and use of norm-referenced tests in a screening process.  The areas of strength and weaknesses of these scales, and how these are used to measure a person's current functioning in different settings are also discussed.  Further considerations in the utility of these measurement tools in terms of their relevance and best practices are also covered.  
Title:  PSAS 2020 - Session 1: Informal Assessment Tools and Norm-Referenced Tests
Resource Speaker:  Dr. Maria Caridad H. Tarroja, PhD, RPsy
Event Delivery:  Webinar via Zoom 
Date:  October 3, 2020 (Saturday), 10am-12pm
Target Participants:  Registered Psychologists, Registered Psychometricians, Registered Guidance Counselors.
Continuing Professional Development (CPD) Points:  TBA CPD Points for RPsy, RPm, and RGC
Rates:  Early Bird - Php 2,500 for all five sessions in this series until September 6, 2020 (Register here)
             Regular - Php 600 for individual session
             PAP Member - Php 550 for individual session
                 *This fee is inclusive of the seminar and certificate. Slots are secure upon payment.
                  Payments are nonrefundable and secured slots are non-transferable. 
At the end of this 2-hour webinar-workshop, the participants would be able to:
1. Explain the rationale and usefulness of informal tests and norm-referenced tests in psychological assessment;
2. Evaluate the strengths and limitations of some of the commonly used informal assessment tools and norm-referenced tests;
3. Describe the process of analyzing, interpreting, and integrating these assessment tools in psychological assessment, and
4. Identify and discuss ethical issues in the use of these assessment tools.
ONLINE REGISTRATION IS NOW CLOSED! 
However, you can manually register by contacting us at email psychconsult [dot] info [at] gmail [dot] com or call/text 0917-637-8155.  Manual registration is open until October 3, 20202 (8:00AM). 
downloadable links