PsychConsult, Inc. is offering a CPD-accredited online course, Good Practices in Psychological Assessment with Maria Caridad H. Tarroja, PhD, RPsy!  See the details below!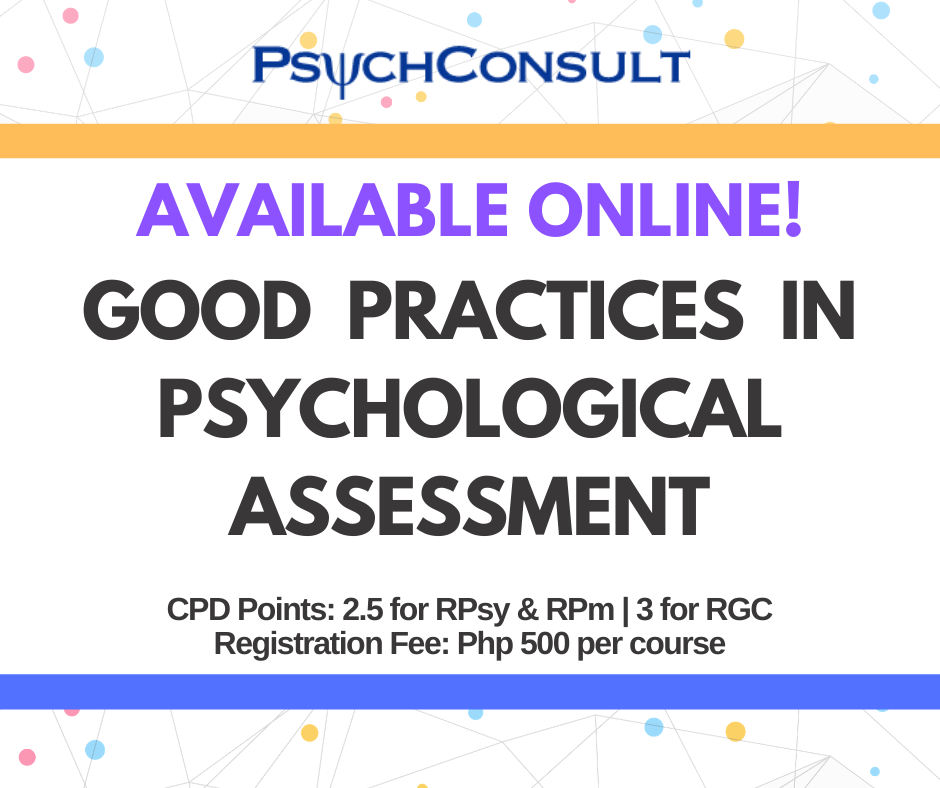 Title:  Good Practices in Psychological Assessment
Resource Speaker:  Maria Caridad H. Tarroja, PhD, RPsy
Event Delivery:  Online Course via Kuro.Pro
Dates:  August 22, 2019 to August 20, 2020
Target Participants:  Registered Psychologists, Registered Psychometricians, and Registered Guidance Counselors
Continuing Professional Development (CPD) Points:  For RPsy & RPm - 3 (PSYCH-2017-022-489) | For RGC - 5 (PSYCH-2017-022-326)
This is an advanced course for psychologists, psychometricians, and guidance counselors (beyond what may be learned in school), newly licensed and seasoned alike, who are involved in doing psychological assessments in different settings.
This course anchors on the four principles in the Universal Declaration of Ethical Principles for Psychologists and the assessment section of the Code of Ethics of the Psychological Association of the Philippines.  It highlights good practices as ethical practices within the context of doing psychological assessments.  It is a fitting repetition of important aspects of good practices, which is indispensable for beginning and seasoned psychometricians and psychologists alike.  
Course Objectives:
1. Recite the 4 principles of the Universal Declaration of Ethical Principles of psychologists
2. Understand the value of informed consent and confidentiality, and the exceptions surrounding these practices
3. Plan at least one goal in improving one's practice in psychological screening assessments
You may enroll in the course at https://www.kuro.pro/course?courseid=good-practices-in-psychological-assessment for just Php 500.
 
Please take note: The CPD-accreditation is valid from November 6, 2019,  to November 6, 2020. Kindly complete the course within the said period to ensure your CPD units.
For more information, you may email Kim Lim at psychconsult [dot] info [at] gmail [dot] com or contact (02) 8421 2469