PsychConsult, Inc. is holding the Psychological Screening Assessment 2-Day Seminar this March 2020 in Davao City!  See the details below!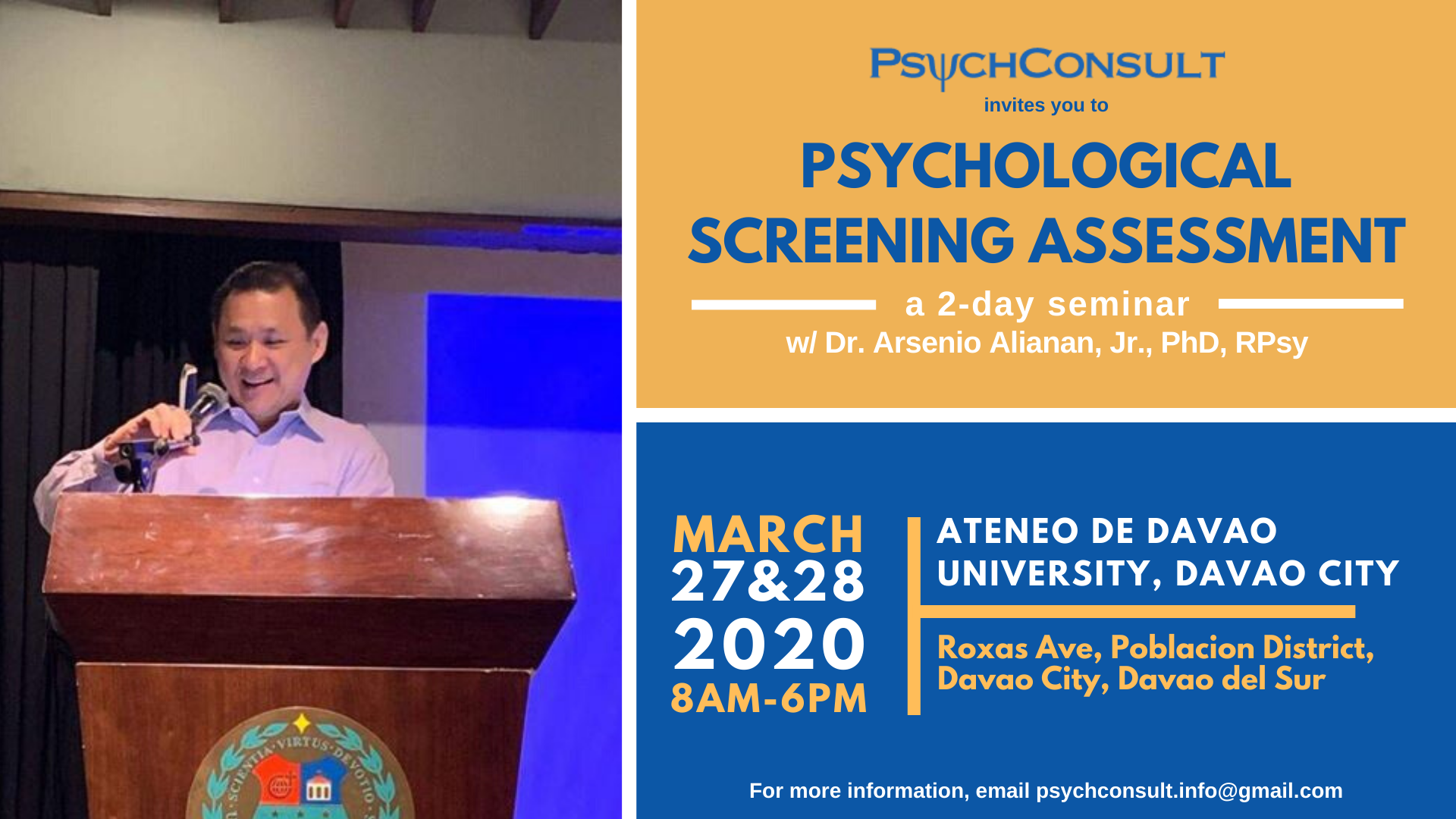 Title:  Psychological Screening Assessment Seminar 2020
Resource Speaker:  Dr. Arsenio Alianan, Jr., PhD, RPsy
Event Delivery:  Seminar 
Venue:  Ateneo de Davao University
Dates:  March 27 to 28, 2020, Friday to Saturday, 8am to 6pm
Target Participants:  Registered Psychologists, Registered Psychometricians, Registered Guidance Counselors.
Continuing Professional Development (CPD) Points:  13.5 CPD Points for RPsy & RPm |  16 CPD Points for RGC
Rates:  Early Bird - Php 2,500 until March 9, 2020 (Monday)
             PAP Member - Php 2,750
             Regular - Php 3,000
                 *This fee is inclusive of the 2-day seminar, materials, lunch, snacks, and certificate. Slots are secure
                  upon payment. Payments are nonrefundable and secured slots are non-transferable. 
This psychological screening assessment seminar is meant for psychometricians and psychologists, newly licensed and seasoned alike, who are involved in doing psychological assessments in different settings.  The seminar takes the psychological screening approach, which emphasizes the identification and measurement of psychological characteristics that are relevant given a professional's referral context.  These assessments aim to describe individuals in more general terms that may either fulfill its own goals or lead to more in-depth clinical assessments. 
The topics covered in this seminar builds on foundational understanding of the topic and offers novel and advanced conceptualizations of psychological screening, interpreting selected group administered tests, and writing screening reports.  This comprises 5 modular lectures designed as a curriculum that covers the range of information needed in performing psychological screening assessments of adults across various settings.  It begins with basic good practices and an introduction to a psychological screening approach, and proceeds to two common assessment areas (i.e., intellectual and personality functioning), and ends with reporting screening assessment results. 
REGISTER HERE! 
(Having trouble registering? Check the online guide at: www.tinyurl.com/PSAS-HowTo)
For more information, you may email psychconsult [dot] info [at] gmail [dot] com or contact us at (02) 8421-2469 or 0936-796 7177.
---
Downloadable files:
Letter of invitation - http://bit.ly/2s9Ea5q
Overview of 2-day seminar - http://bit.ly/37MMVl6