Psychconsult, Inc. is celebrating 20 years with a webinar series!
Join us for the webinar: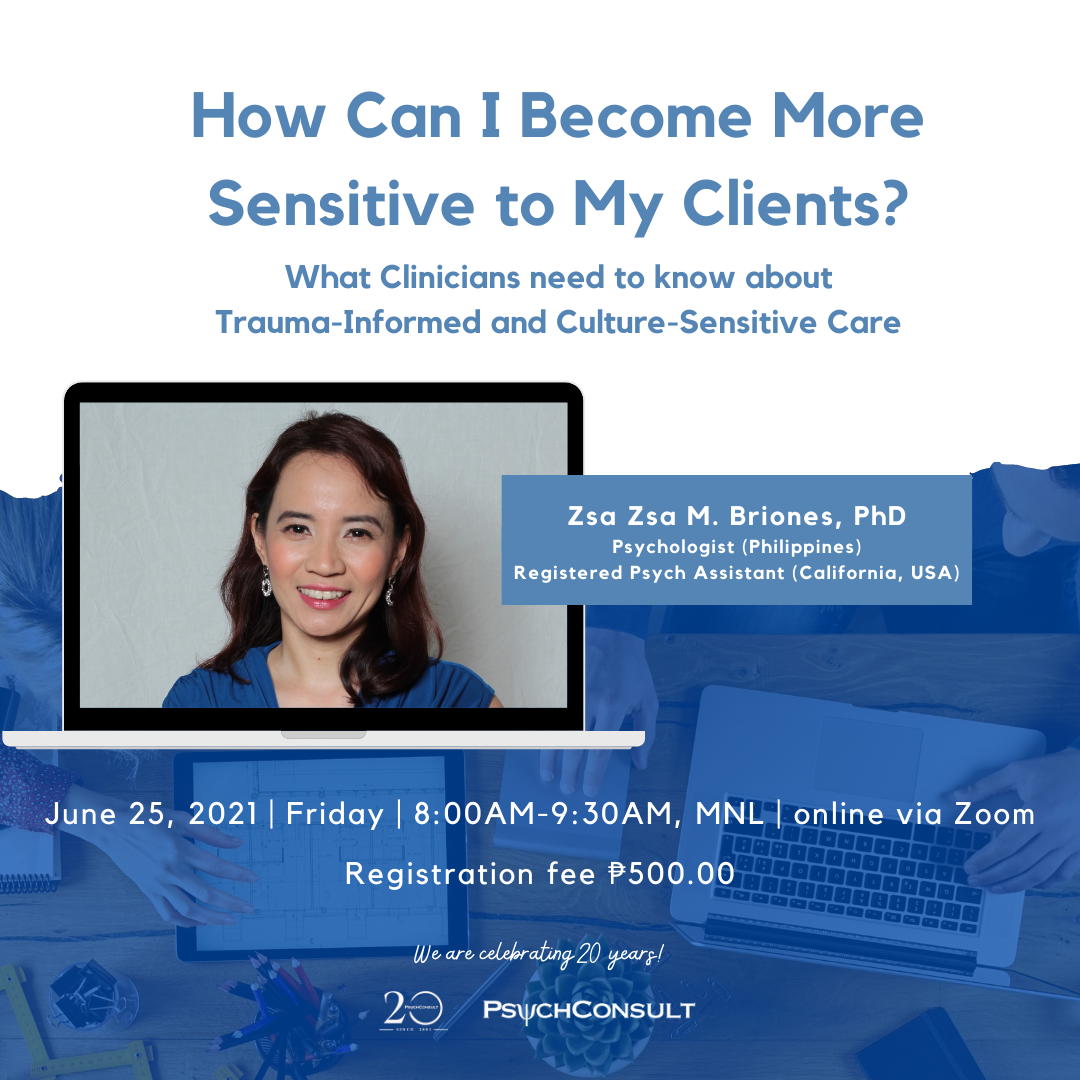 This webinar describes the importance of trauma-informed and culture-sensitive care on the individual and systemic levels. 
On an individual level, when clinicians overlook subtle cultural factors and trauma indicators, interventions can be misguided or insufficient.
On a systemic level, clients can be retraumatized by certain procedures or interactions and, as an unintended result, manifest intensified symptoms.
These principles are thus relevant in client interaction as well as case formulation, which helps inform the clinician of appropriate treatment and intervention.  At the webinar's conclusion, clinicians gain a better understanding and application of trauma-informed care and cultural sensitivity towards clients.  Professionals who provide services to clients in the mental health, medical and school settings are invited to attend.  Examples that apply to these three settings will be provided, but with a focus on the therapist-client relationship.
Title:  How Can I Become More Sensitive to My Clients? 
What Clinicians need to know about Trauma-Informed and Culture-Sensitive Care
Speaker:  Dr. Zsa Zsa M. Briones, PhD
Venue:  online via Zoom (link will be sent upon confirmation of registration)
Date:  June 25, 2021 | Friday | 8:00am to 9:30am, MNL
Target Participants:  open to all interested
Psychologists, Psychometricians, Guidance Counselors, Social Workers, Teachers and Mental Health Advocates
Registration Fee:  ₱ 500  (Inclusive of digital certificate)
CPD Points: Psychologists & Psychometricians - TBA
 ** Slots are secure upon payment. Payments are non-refundable and secured slots are non-transferable.  
Register Here
(Having problems registering? Check out our step by step guide at www.tinyurl.com/PCI-HowToReg)
For concerns, please email us at psychconsult [dot] info [at] gmail [dot] com or message 0917 637 8155.