PsychConsult, Inc. invites you to the Psychological Assessment of Children with Intellectual & Learning Disabilities, the fourth webinar in the Psychological Assessment 2023 Webinar Series!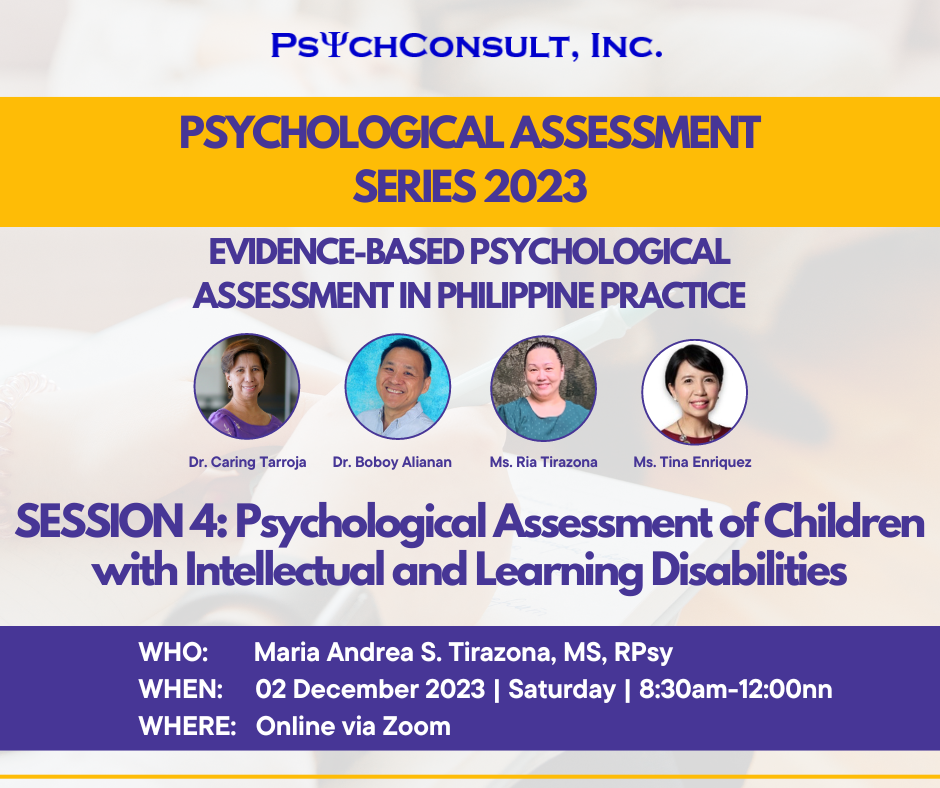 Psychological assessments are often key contributors to effective intervention for intellectual and learning disabilities. This 3.5-hour webinar offers a review of Intellectual Disability and Learning Disorders, as well as behavioral problems that coexist with neurodiversity. Psychological tests to screen for cognitive, adaptive and behavioral challenges arising from neurodevelopmental issues will be discussed. Issues and challenges in conducting assessment with these children will also be explored.
 
At the end of this 3.5-hour seminar-workshop, the participants would be able to:
1. Identify salient indicators of intellectual deficiency, learning difficulties and behavioral issues associated with neurodevelopmental disorders that are exhibited by children and adolescents
2. Define key factors that may contribute to cognitive, behavioral and adaptive limitations in children and adolescents.
3. Rationalize and adapt a psychological screening test battery that may be used in assessing children and adolescents' intellectual and adaptive functioning.
4. Discuss issues and challenges of  psychological screening and assessment of intellectual functioning, particularly in the FIlipino context
Title:  Psychological Assessment Series 2023 - SESSION 4: Psychological Assessment of Children
           with Intellectual and Learning Disabilities
Resource Speaker:  Ms. Maria Andrea S. Tirazona, MS, RPsy
Event Delivery:  Webinar via Zoom 
Date:  December 02, 2023 (Saturday), 8:30am-12:00nn
Target Participants:  Registered Psychologists, Registered Psychometricians, Registered Guidance Counselors.
Continuing Professional Development (CPD) Points:  TBA CPD Points for RPsy, RPm, and RGC
Rates:  Early Bird - Php 2,500 for all five sessions in this series until September 30, 2023 (Register here)
             Regular - Php 600 for individual session
             PAP Member - Php 550 for individual session
                This fee is inclusive of the seminar and certificate. Slots are secure upon payment.
                Payments are non-refundable and secured slots are non-transferable.