PsychConsult, Inc. invites you to the Assessment for Adoption: What Practitioners need to Know,
the third webinar in the Psychological Assessment 2023 Webinar Series!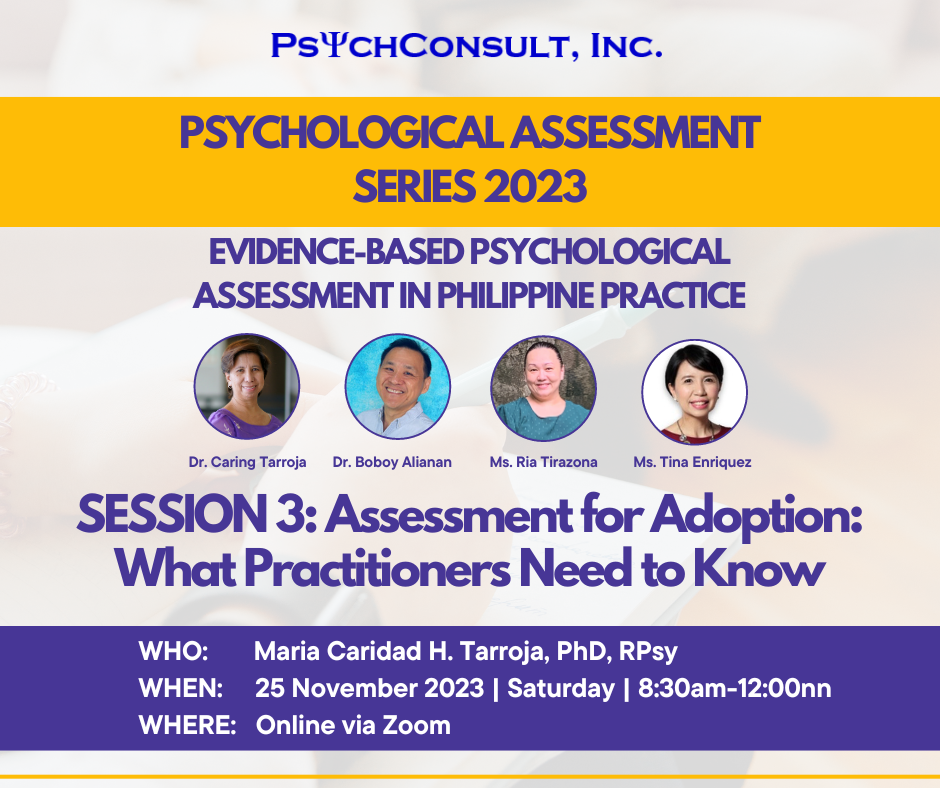 Psychological assessment of the adoptee and the potential adoptive parents is one of the requirements for adoption.  This webinar gives an overview of what practitioners need to know and practice in the conduct of psychological assessment specifically for adoption purposes, the context, the tools, and the report.
 
At the end of this 3.5-hour seminar-workshop, the participants would be able to:
1. Explain the goals of psychological assessment for adoption purposes
2. Relate adoption related contexts and issues in psychological assessment
3. Develop a battery of psychological tools when conducting psychological assessment
4. Create a template for psychological report
Title:  Psychological Assessment Series 2023 - SESSION 3: Assessment for Adoption:
           What Practitioners Need to Know
Resource Speaker:  Dr. Maria Caridad H. Tarroja, PhD, RPsy
Event Delivery:  Webinar via Zoom 
Date:  November 25, 2023 (Saturday), 8:30am-12:00nn
Target Participants:  Registered Psychologists, Registered Psychometricians, Registered Guidance Counselors.
Continuing Professional Development (CPD) Points:  TBA CPD Points for RPsy, RPm, and RGC
Rates:  Early Bird - Php 2,500 for all five sessions in this series until September 30, 2023 (Register here)
             Regular - Php 600 for individual session
             PAP Member - Php 550 for individual session
                This fee is inclusive of the seminar and certificate. Slots are secure upon payment.
                Payments are non-refundable and secured slots are non-transferable.