PsychConsult, Inc. is holding the Psychological Screening Assessment Series this coming March 2020 to July 2020!  See the details below!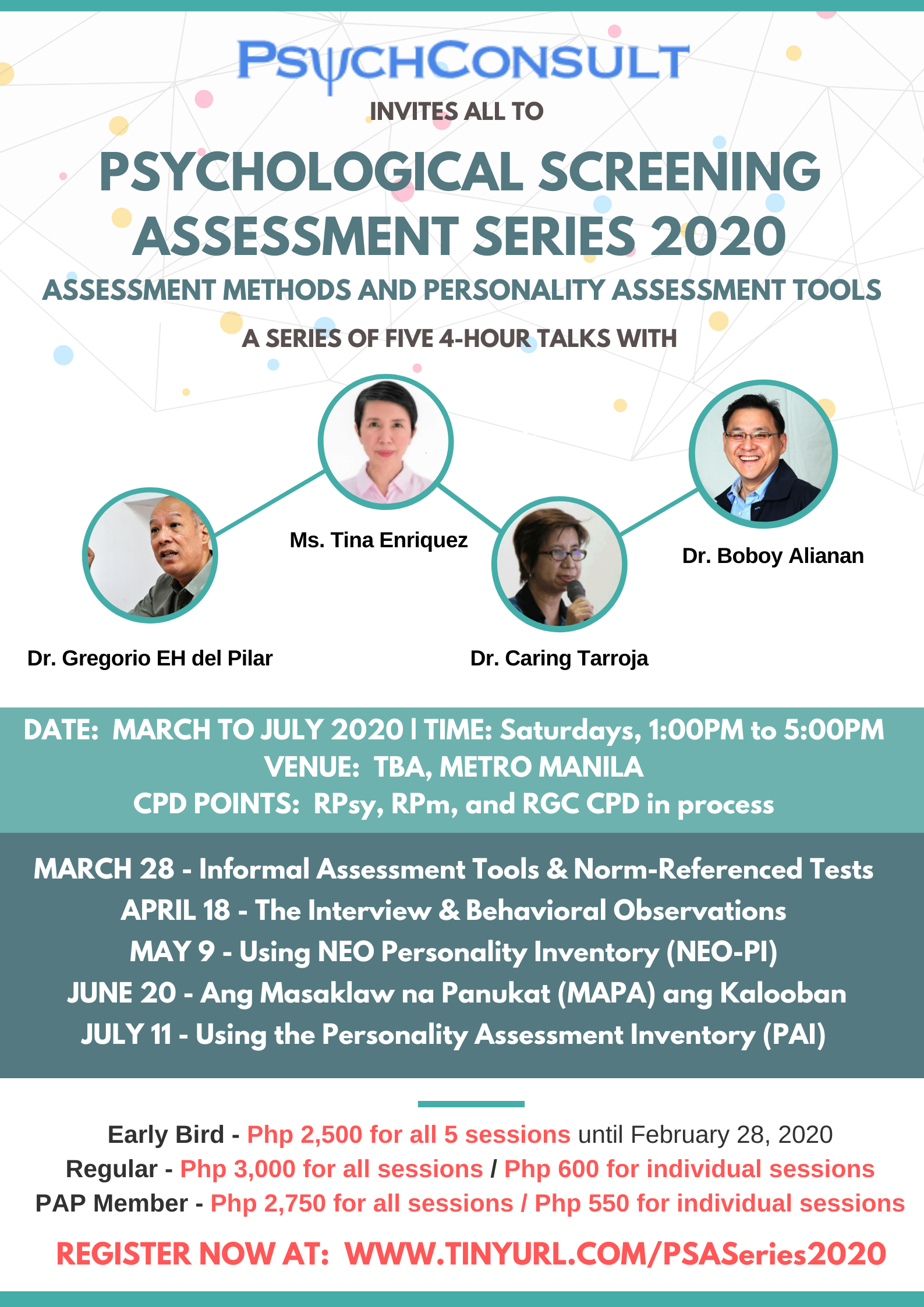 Title:  Psychological Screening Assessment Series: Assessment Methods and Personality Assessment Tools
Resource Speakers: 
Dr. Maria Caridad H. Tarroja, PhD, RPsy

Ms. Maria Cristina Salud H. Enriquez, MA, RPsy

Dr. Arsenio Alianan, Jr., PhD, RPsy

Dr. Gregorio EH del Pilar, PhD, RPsy
Event Delivery:  Seminar 
Venue:  College of Sciences Auditorium, UP Diliman Campus, Metro Manila
Dates:  March to July 2020, Saturdays, 1pm to 5pm
[POSTPONED] Informal Assessment Tools & Norm-Referenced Tests w/ Dr. Caring Tarroja

[POSTPONED] The Interview & Behavioral Observations w/ Ms. Tina Enriquez

May 9 - Using NEO Personality Inventory (NEO-PI) w/ Dr. Caring Tarroja

June 20 - Ang Masaklaw na Panukat (MAPA) ng Loob w/ Dr. Gregorio EH del Pilar

July 11 - Using the Personality Assessment Inventory (PAI) w/ Dr. Boboy Alianan


 
Target Participants:  Registered Psychologists, Registered Psychometricians, Registered Guidance Counselors.
Continuing Professional Development (CPD) Points:  TBA CPD Points for RPsy, RPm, and RGC
Rates:  Early Bird - Php 2,500 for all 5 sessions until February 28, 2020 (Friday)
             Regular - Php 3,000 for all sessions / Php 600 for individual sessions
             PAP Member - Php 2,750 for all sessions / Php 550 for individual sessions
                 *This fee is inclusive of the seminar and certificate. Slots are secure upon payment.
                  Payments are nonrefundable and secured slots are non-transferable. 
 
This seminar series builds on the skills of psychometricians and psychologists in doing psychological screening assessments.  According to Jerome Sattler (2008), there are four assessment methods used in psychological evaluations, namely, the interview, observations, informal assessment procedures, and norm-referenced tools. 
This seminar series begins with elucidating and further building on the participants' knowledge of these four assessment methods, particularly in the first two seminars of this series.  These sessions offer detailed discussions and practical exercises of each of the four methods in psychological assessment and how they may be utilized in relation to one's purpose of assessment.  Exemplars of the different assessment methods that may be used in screening assessments will also be discussed, which will include discussions on relevance and appropriateness in two assessment contexts, particularly employment and psychoeducational screening assessments. 
The remaining three seminars of this series will focus on maximizing the utility of different current measures of personality, including a recently published locally developed personality test.  These three personality tests are the following:  NEO-Personality Inventory (NEO-PI); the Personality Assessment Inventory (PAI); and the Masaklaw na Panukat ng Loob ng Tao (MAPA).
REGISTER HERE:
(Having trouble registering? Check the online guide at: www.tinyurl.com/PSAS-HowTo)
For more information, you may email psychconsult [dot] info [at] gmail [dot] com or contact us at (02) 8421-2469 or 0936-796 7177.
--
Downloadable Files